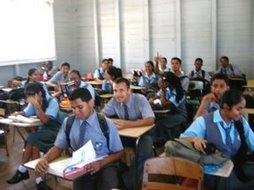 Academics
As a public school, the academic programme follows the guidelines established by the Ministry of Education and prepares students to take the Caribbean Examination Council (CXC) examinations.
The General Secondary School provides a more academic based programme leading to certification in the CXC and London General Certificate of Education (GCE), Advanced Level.
It takes an average student five years to the CXC and an additional two years to the Advanced Level.
The subjects taught in the secondary schools to examination level include:-
English Language, English Literature, French, Art, Spanish, Chemistry, Biology, Physics, General Science, Economics, Pure and Applied Mathematics, Geography, History, Home Economics and Nutrition, Music and Physical Education.
With such a wide range of studies, St Stanislaus College offers Guyanese a rich choice of educational and professional opportunities. During their fourth year in the schools, the students are able to choose from the fields of science, technology, agriculture, home economics or commerce for major study.
The curriculum framework is international in outlook and provides for the development of the whole child, not just in the classroom but also through other media of learning, encompassing social, emotional, physical and cultural needs in addition to academic welfare.
Our curriculum delivers our mission by liberally educating our students as independent learners, problem solvers, critical thinkers, and capable readers and writers. It caters for a wide variety of the educational needs of the secondary student. Included amongst these are the sciences, languages, the arts, business studies and technical subjects.