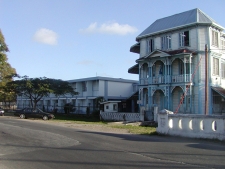 About SSC
St. Stanislaus College is a co-educational High school located in Georgetown, Guyana.
St. Stanislaus College was founded as an all-boy Catholic high school that was operated by the Jesuits.

The college became co-educational in 1975 and
became a government school in 1976, after being
a Catholic institution for 110 years.
Student Body
Students come from all over Guyana.
St. Stanislaus College enrolls students in Forms 1 through Form 6. 5th Form students sit the Caribbean School Examination Committee (CSEC) examinations - the equivalent of GCE O-Levels. Those students who continue on to 6th Form sit the Caribbean Advanced Proficiency Certificate (A-Level) also set by the Caribbean Examinations Council (CXC).
Enrollment: In recent years the enrollment has averaged over 525 students.
Student/Teacher Ratio: 13:1
Awards:
In 2005 and 2008, St. Stanislaus College received awards for being the most improved Secondary school based on the CSEC results.
College Crest:
The College Crest has the cross fleury and the horse-shoe in azure and argent in alternate quarters. The horse-shoe is taken from the family coat of arms of the Kostkas, to which family St. Stanislaus belonged.
One of his ancestors invented the spiked horse-shoe, which gained a valuable victory over the Russian Cossacks. The engagement took place across a frozen river. The Polish cavalry were enabled easily to rout the enemy, whose horses floundered and slipped, whilst their own horses had a firm grip on the ice.
The Kostka family was permitted to put the horse-shoe on its shield in commemoration of the event. The spikes on the shoe have now been transformed into crosses.
Our motto, "Aeterna non Caduca", was one of the sayings of St. Stanislaus.
It may be translated as:
"I LIVE NOT FOR TIME BUT FOR ETERNITY".